Thailand is an island nation with a variety of beautiful tropical beaches. So do not be surprised if many foreign tourists come to enjoy the stunning views of the coast and the sea.
If you often go and stay in the beach area, why not try a vacation by liveaboard? it is not a super large cruise ship, but a medium-sized boat that is used for sailing.
In some regions in Thailand, especially in areas consisting of small islands, many tourists enjoying its natural beauty, especially the divers. Areas that are often explored by liveaboard are Khaolak, Similan Islands and Surin Islands. This area is indeed made up of beautiful small islands and extraordinary underwater natural beauty. Also, many tourism operators have provided liveaboard services in this area. For example, Manta Queen Liveaboard.
There are advantages if you try liveaboard rather than stay on one island:
Saving time. If you stay on one island, then it takes longer to commute to the destination island. With liveaboard, many islands and regions can be explored.
Providing different experiences – of course. If you used to live on land, now you can experience life like our ancestors who lived on the sea.
There are lots of exciting experiences. You will wake up in the morning with a beautiful view of the sea and sunrise, start from swim directly into the sea, snorkel for seeing the underwater beauty and fishes, and enjoy millions of stars in the sky every night.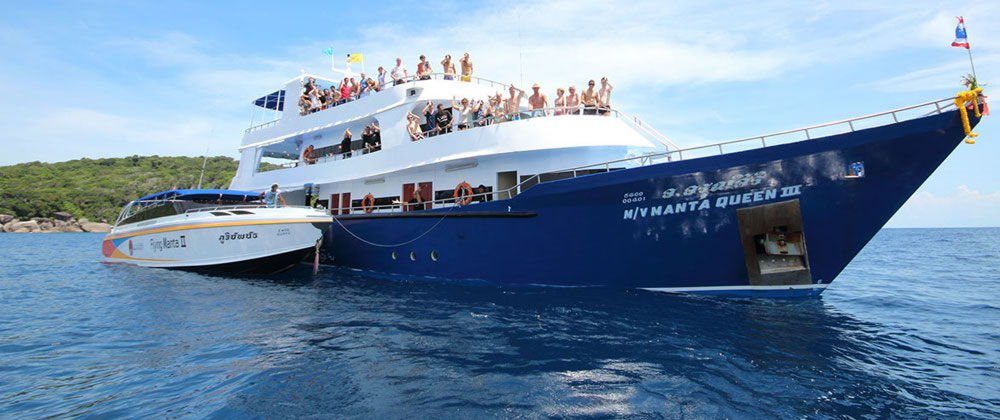 If you are still unsure because you imagine big ocean waves and are afraid of seasickness, don't worry because these two regions have fairly calm waters. The ship moves through the path between small islands so there are rarely big waves. At night, usually, the ship will lean near the island so that your sleep will feel calm and safe. Also, these ships are equipped with various facilities that make passengers feel comfortable, ranging from toilets, bedrooms, bathrooms, clean water, and chefs who will process food for you. The more complete the facilities of a ship, the more expensive the price will be. Interested in trying?